Stucco Wall Caps:
Guide for Flashing Details
by Robert Bateman
A new guide available for flashing and waterproofing stucco buildings, this practical reference focuses on different styles of top of wall caps on frame buildings; intended for designers and builders. It includes other guidance for general stucco work.
Includes 242 pages and 125+ line drawingsfor comparing and selecting stucco wall waterproofing details depending on weather performance and material selection for different Mild, Moderate and Major climate demand areas. 
Stucco Wall Caps also includes problem details and graphic solutions with historical illustrations of wall details applicable to contemporary construction.
The author is a San Francisco–based architect with extensive building enclosure consultation experience, with a focus on waterproofing walls and windows.
Includes:
Extensive references to industry standards
Extensive bibliography
Discussion of continuous insulation detailing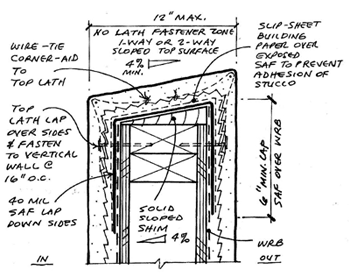 OTHER TITLES:
Nail-On Windows
Sheet Metal Flashing (future)
242 pages
125+ detail drawings
Spiral Binding
(for easy handling) 
Publisher: Westcon (2012)
c/o Robert Bateman
Language: English
ISBN-13:  9780692009376
$80 includes
shipping and handling
"Try a Google search on "Stucco Wall Caps" and be prepared to review lots of conflicting advice. Robert Bateman is a San Francisco Bay–based architect that has been involved with waterproofing detailing for his entire career. Here is an exhaustive, 242 pages of discussion and details for truly waterproof construction of Stucco walls."
— BuildersBooksource.com, 2015