Sheet Metal Flashing:
A practical manual of everyday details common for residential and commercial mid-rise frame buildings.
by Robert Bateman & William W. Kolthoff
This book is in progress — please contact Robert Bateman with any questions, requests or suggestions.
This is a resource for sheet metal flashing details developed specifically for everyday buildings. Common conditions for sheet metal flashings for mid-rise frame buildings have been and continue to be a challenge for successful performance despite decades of construction history.
Common sheet metal flashings that have been ignored by the industry publications are illustrated. We believe available industry references do not adequately address many specific conditions for common locations where failures have been observed.
About the Authors:
Robert Bateman, forensic architect, and Bill Kolthoff, sheet metal consultant, combine their knowledge and experience with building investigations, repair design and new building details to develop a guide for everyday flashing conditions.
Includes:
Top and bottom of wall flashing
Wall penetration flashing
Integration of sheet metal with other flashings and water-resistive barriers
Roof-wall transitions
Roof perimeters
Fabrication techniques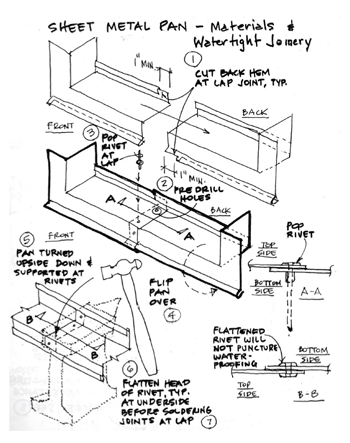 OTHER TITLES:
Stucco Wall Caps
Nail-on Windows