Nail-On Windows:
Installation & Flashing
Procedures for Windows
& Sliding Glass Doors
by Robert Bateman
This guidebook formed the basis for the development of the American Society of Testing and Materials (ASTM) Standard in 2004 (then revised 2007 and reapproved 2016), "ASTM E2112 — Standard Practice for Installation of Exterior Windows, Doors and Skylights" (original illustrations prepared by the author, which were templates for figures used in the ASTM standard, appear in this volume).
Nail-On Windows recognized that weather-exposed exterior walls drain by a surface barrier or by a concealed drainage medium underneath the wall cladding. The guide illustrated that for all framed walls the window and sliding glass door openings can be flashed with the same techniques regardless of the exterior wall cladding types.
The author is a San Francisco–based architect with extensive building enclosure consultationexperience, with a focus on waterproofing walls and windows.
Includes:
Illustrations from CAWM 400-95 Standard Practice for Installation of Windows with Integral Mounting Flange in Wood-Frame Construction.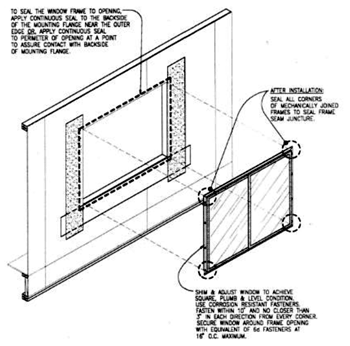 OTHER TITLES:
Stucco Wall Caps
Sheet Metal Flashing (future)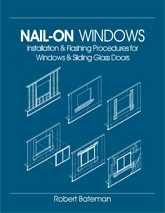 Enlarge View
3rd Printing
Now Available
228 pages
Spiral Binding
(for easy handling)
Publisher:
DTA (1995)
Robert Bateman (2016)
Language: English
ISBN-10: 0964577003
ISBN-13: 978-0964577008
$80 includes print-on-demand, shipping and handling
Allow 6 weeks for delivery